<![if !vml]>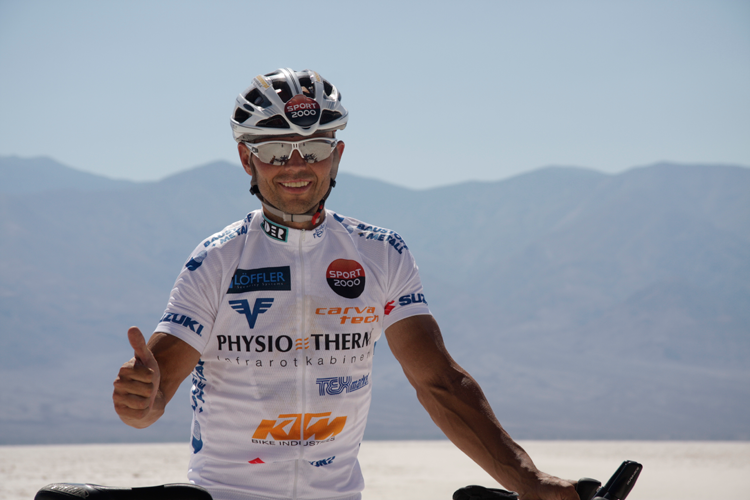 <![endif]>
Today Oceanside, California will see the start of the 30th edition of the Race Across America (RAAM). It is one the most respected and longest running endurance sports events in the world - an epic ultra endurance race for teams and solo athletes riding more than 3000 miles from the west to the east coast.
The 44-year-old Austrian Gerhard Gulewicz finished 2nd in 2010 and 2009. He's an ultra endurance pro-cyclist, 24 h MTB World Champion 2005 and one of the big favorites this year.

<![if !vml]>
<![endif]>
Hello Gerhard, you had awesome results at the Race Across America already: two second places and one third place. What is your goal this year?
That's an easy answer - I am on my way to the US to win this year's RAAM as I was second twice already ?
But I have to say - my competitors this year are again very strong and just the race itself is very extreme. The weather and course are extreme as well. But if I stay in good health I'll have a very good chance.
You just turned 44 years old. Are there any differences compared to your first start five years ago?
No - I am just surprised that I get better every year. It was a significant improvement when I started using the SRM Training System and training with power. I can feel that I have not reached my limit with this kind of training and further improvements will be possible.
You are riding up to 40 hours non-stop during the race. How do you stay awake?
Concentration - or let's say it like this: I have to stay focused. A very simple example: When you go to bed with all sorrows and problems it's very difficult to fall asleep, it doesn't matter how tired you are. When you go to bed and your mind wanders you fall asleep at once. This is what I do but just with positive thoughts, not sorrows and problems. I focus every second and it's easy for me to stay awake.
Are you afraid of health problems caused by the enormous demands?
No - I am well prepared and trained.

Three years ago Michael Nehls took the start with a new strategy. He slept nearly seven hours each night and took some rest also during the day. He finished 7th. Do you think it's possible to win with this strategy?
No, it's not. Just do the math - how fast does he have to ride in his active hours to regain the time for the breaks. You cannot recover that well during the breaks. The idea is to take as few breaks as possible but as many as are needed. It's a very thin line.
What section of the race is the most difficult?
Each section can be tricky.
You are equipped with three KTM bikes - each one with a SRM Training System. How does it help during the race?
In the last four years the SRM has been the ultimate tool for me. Not just in training but also in the race. There are several reasons:
I am always aware of my performance level and how this changes during the race in comparison to training. It is really important for me to see if and how much my performance drops. Nutrition is an important aspect that my physician looks after too. If the nutrition is perfect the drop in performance stays in a normal range.
In the beginning of the race the SRM is also my speed limiter. I try not to overpace as I know my max power in the beginning so I can stay in a certain range for 40 hours.
During the race it helps me to push myself and stay on a certain power level if I'm feeling bad.
<![if !vml]>
<![endif]>
How does the SRM help during training and how did your training change with using the SRM?
As I already said - the SRM Training System revolutionized my training and I cannot think about training without it. Training with power is the only really striking training. Heart rate is still important but just as a back up control, not for training control.
A very important issue for me: training gets not just to a higher quality level, it also gets shorter. You don't have to train shorter but the efficiency of the training is getting better. More time for recovery and the other important things in life ?
You worked with the SRM Indoortrainer during the winter. Before you always rode a regular Spinning Bike. What are the advantages of the Indoortrainer?
I have all the advantages of the SRM Training System. I can train with power which is even more important when riding indoors. Riding outside you'll always have times with lower watts or even zero watts. Indoors you always have to pedal and training becomes more efficient.
How long will it take after the RAAM to recover?
That'll take about 2 months.
Gerhard, thank you very much for the interview. Good luck for the race. We will keep our fingers crossed.
Thanks a lot.
<![if !vml]>
<![endif]>
http://www.srm.de/index.php/gb/srm-blog/event-blog/633
http://www.myprgenie.com/view-publication/hotel-on-wheels-supports-top-rider-gerhard-gulewicz-during-his-2011-race-across-america
www.youtube.com/watch?v=tE17j361zvc