JAN GOULEVITCH
460 SQUADRON RAAF
MILITARY SERVICE DURING WORLD WAR II
<![if !vml]>
<![endif]>
21 Feb 1919 - 24 Dec 1994
Ян Гулевич (John Goulevitch) (21.02.1919 Благовещенск, Россия – 24.12.1994 Townsville, Австралия) 20 июля 1941 г. был зачислен в Королевские Австралийские ВВС (RAAF). В конце августа 1942 г. прибыл в Шотландию, где продолжил службу в качестве летчика в 460 эскадрилье бомбардировщиков RAAF. Участвовал в налетах на Германию.
Born at: Blagoveshschensk, Siberia on: 21 Feb 1919
Occupation: Retired Cabinet Maker
Spouse's Name: Julia Goulevitch (nee Bell)
Married at: St. Christophers Ch., Albion, Brisbane, QLD on: 30 Aug 1941
Children: John, Ian, Kay, June
Died on: 24 Dec 1994 at RSL Nursing Home at Rowes Bay, in Townsville
Buried at: Belgian Gardens Cemetery, Townsville
Father: Basil Goulevitch
Mother: Josephine Goulevitch (nee Katsuba)
Brothers: Albert (Ted), Felix
Sisters: Joyce Mary, Katherine
Jan's parent's lived in Ayr, in his early years. They lived in Standard Flats at one stage.
Jan played the double bass in St. Francis's School Band in Ayr. In later years he continued to play in bands including the Townsville RSL Band.
Jan was a cabinet maker and carpenter. He built many homes in Ayr, Mount Isa and Townsville. He once made coffins for Lear and Blumson Funeral Directors which were located near the present Mansfield Hotel in Townsville. He also built his own home at 7 Evans Street, Belgian Gardens. When he built the home it was originally numbered as 5 Evans Street. When he died, his daughter June found the original house plans that he used to build their home amongst his personal papers.
<![if !vml]>
<![endif]>
John Goulevitch often led
the Anzac Day Parade
in Townsville
John went for a holiday to Darwin in October 1992 where he stayed with his son John and his family.
On 6 June 1993 John advised his family that he had sold his home at 7 Evans Street, Belgian Gardens. After selling his house, John initially moved in with his son Ian and his family at Bushland Beach. On Tuesday 14 September 1993 he moved to Flat 5, 104 Mitchell St., North Ward in Townsville. The people who bought his house in Evans Street, used to visit John from time to time.
John was due to enter a Unit at The RSL home at Pallarenda in Townsville. He fell ill with suspected Gall Bladder problems until it was pointed out that he had already had his Gall Bladder removed. He went into hospital on 6 Nov 1994 and had two bad falls in hospital hurting his arms.
Jan died in his sleep on Christmas Eve 1994. He had lost a considerable amount of weight in recent months and was about to be shifted into the hospital or an infirmary. He had only recently just moved into Unit 101 at the R.S.L. War Veteran's Home at 9 Havana St., Rowes Bay, QLD 4810.
His Death Certificate (QLD 95/50480) states that he died on 24 Dec 1995 from Myocardial Infarct and Bronchopneumonia.
TOWNSVILLE DAILY BULLETIN Wednesday 28 December 1994
FUNERAL NOTICES GOULEVITCH, JOHN (JAN) (SNR), D.F.C. 414019 FLYING OFFICER, late of R.S.L. War Veterans Home, Rowes Bay and formerly of North Ward and Belgian Gardens. The relatives and friends of June and Michael Horner and family, Kay and Peter Dunn and family (Brisbane), John and Marilyn Goulevitch and family (Darwin), Ian and Margaret Goulevitch and family, Kath and Noel Kichler and family, Ted Goulevitch and Joyce and Clem Lesyszyn and family are respectfully invited to attend the Funeral Service of their beloved Father, Father-in-law, Grandfather, Brother, Brother-in-law, Uncle, and Friend, JOHN (JAN) GOULEVITCH (SNR) D.F.C., which will commence at 10 o'clock TOMORROW THURSDAY MORNING (29/12/94), at the Woongarra Crematorium Chapel.

R.S.L. OF A. TOWNSVILLE SUB BRANCH Members of the above are respectfully invited to attend the Funeral Service of their late Comrade-in-arms, JOHN (JAN) GOULEVITCH (SNR.) D.F.C. 414019 Flying Officer (460 Squadron) which will commence as above.
C. Titmarsh Sec.
<![if !vml]>
<![endif]>
BRISBANE COURIER MAIL 30 December 1994
DEATH NOTICE GOULEVITCH, John (Jan) (Snr.) D.F.C. 414019 Flying Officer, Late of R.S.L. War veterans Home, Rowes Bay. In Townsville, Sunday 25th December, 1994. Cremated in Townsville, Thursday 29th December, 1994.
Fight Sergeant Goulevitch became one of the Station's personalities and was often seen wearing a funeral director's hat. He obtained the hat when it was left behind on a chair in a bar. He used to take it with him in the aircraft. It was placed on a shelf between himself and the navigator just behind his shoulder.
While with 100 Squadron (RAF) he once discovered that his top hat was missing from his locker. After the briefing for the next Sortie, the Commanding Officer asked "Were there any questions?". John stood up and said that he was not going on the mission that night. After some initial surprise, the CO asked him why. John told him that "Some Pommy bastard had taken my lucky charm", his funeral director's hat. The CO told him to stay behind for 10 minutes and he would get his hat back. The CO then turned to the rest of the crews and told them "You know what has to be done", and sure enough, he had his hat back within 10 minutes.
A number of authors of books have referred to John and his funeral director's hat in their books. Unfortunately they have not obtained their information first hand and are repeating a few things that never happened. For instance a few books have stated that he used to wear his hat to briefings. John said that this was not the case as the hat used to be kept in his locker with all his flying gear and this would only be picked up after briefings. Some authors also have stated that he used to wear the hat in the aircraft. John said that because of the hat's size and the fact that he had to wear his flying helmet, he never wore the hat on a mission. The following is from the book on 460 Squadron RAAF, called "Strike and Return" by Peter Firkins:-
Goulevitch, like most aircrew, had an eccentricity of rather an unusual nature. He had as a good luck token an undertaker's top hat which he piously wore all through briefing and kept on during the whole of an operation. (this is not true - see above) When taking off he would religiously dip his lid to the control tower as his heavily-laden bomber passed by, and when over enemy territory, if he was forced to take any sort of evasive action, he invariably had one hand on his hat to stop it from falling off, using the other one for what he regarded as almost the less important task of flying the bomber
<![if !vml]>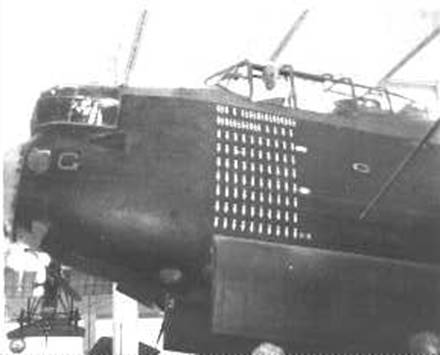 <![endif]>
Jan (John) Goulevitch back in the cockpit
of "G" for George on 1 April 1985
Jan Goulevitch flew "G" for George on a bombing mission over Munich on 6 September 1943. After releasing his bombload, he lost oil in one engine and it seized up. Because of the seized engine, John was late back from the mission. Usually, he bombed first, and was generally first back to the airfield. By this time, "G" for George had 54 missions up out of its eventual total of 90 trips. 54 missions was even a pretty good record and because of this, the ground crew became attached to "G" for George and always waited to see it return. When it did not show up with the rest of the aircraft after the mission, the Sergeant of the ground crew Harry Tickle, started to get a bit anxious. John eventually called in on the radio when he was about 50 miles out and apparently the Sergeant almost broke into tears of joy. John only flew one mission in "G" for George.
<![if !vml]>
<![endif]>
<![if !vml]>
<![endif]>
"G" for George has been progressively restored on the inside over recent years, and John was able to assist with the proper location of fittings, etc. in the aircraft. John's name is shown on an Honour Board of "G" for George pilots. This board is on display in front of the aircraft.
He is also mentioned in a small booklet produced by the Australian War Memorial. The booklet also has a photograph of him wearing his funeral director's hat in front of a Lancaster.
<![if !vml]>
<![endif]>
"G" for George at the Canberra War Memorial
<![if !vml]>
<![endif]>
John and Julia Goulevitch
Anzac Day 1985
During his visit to the Australian War Memorial on 1 April 1985, Jan Goulevitch was taken inside "G" for George and had a number of Official photographs taken by the War Memorial's photographer. When he sat in the pilot's seat and then put his head out of the cockpit window, he was amazed at how high off the ground the aircraft had been.
<![if !vml]>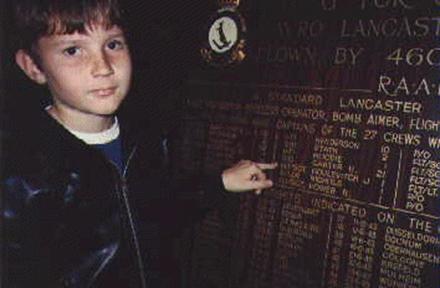 <![endif]>
Simon Dunn, grandson of Jan Goulevitch, at the Canberra Memorial on 22 September 1984, pointing at his grandfather's name on the Memorial Board in front of the famous Lancaster "G" for George
<![if !vml]>
<![endif]>
Источник: http://www.ozatwar.com/goolie.htm